CompTest 2023
11th International Conference on Composite Testing and Model Identification
Girona, Spain May 31 – June 2
HYBRID ON SITE – ONLINE
Deadline for abstract submission: January 8th, 2023.
The abstract must be written in English in the official template and have a maximum length of 2 pages. Submit your abstract in PDF format via e-mail to comptest2023@udg.edu.
Josep Costa
Jordi Renart
Norbert Blanco
Fabrice Pierron (Co-chair)
Michael Wisnom (Co-chair)
Cristina Barris
Laura Carreras
Emilio González
Pere Maimí
Joan Andreu Mayugo
Dani Trias
Albert Turon

Alberto Barroso Caro, Universidad de Sevilla, Spain
Christophe Bouvet, Icube, France
Pedro Camanho, University of Porto, Portugal
Carlos Dávila, NASA Langley Research Center, USA
Peter Davies, IFREMER, Marine Structures Laboratory, France
Martin Fagerstörm, University of Chalmers, Sweden
Bodo Fiedler, TUHH, Hamburg
Carlos González, IMDEA, Spain
Stephen Hallett, University of Bristol, UK
Endel Iarve, University of Texas at Arlington, USA
Frédéric Laurin, Onera, France
Esben Lindgaard, Aalborg University, Denmark
Stepan Lomov, KU Leuven, Belgium
Michael May, Fraunhofer Institute for High-Speed Dynamics
Frans van der Meer, Delft University of Technology, Netherlands
David Mollenhauer, AFRL, USA
Silvestre Pinho, Imperial College London, UK
Soraia Pimenta, Imperial College London, UK
Marino Quaresimin, University of Padova, Italy
Mohamed Sahbi Loukil, Linköping University, Sweden
Bent F. Sørensen, Technical University of Denmark, Denmark
Yentl Swolfs, KU Leuven, Belgium
Ole Thomsen, University of Bristol, UK
Anastasios P. Vassilopoulos, EPF Lausanne, Switzerland
Yentl Swolfs (KU Leuven)
Federico París (Universidad de Sevilla)
Melanie Herman (Airbus-Toulouse)
Janice Barton (University of Bristol)
Albert Turon (Universitat de Girona)
The conference will be held at the Faculty of Humanities of the University of Girona, located next to the Middle Ages city wall, at the old town of Girona, in the former XIII century gothic convent of Sant Domènec. The Faculty of Humanities is easily reachable by walk from the centre of the town (it takes between 5 and 15 minutes). Girona international airport receives direct flights from many airports in Europe. Girona high-speed railway station is in the middle of the line Barcelona-France with international high-speed services operated by Renfe and SNCF.
It's worth mentioning that Girona is not a city for just passing through. There are so many places to start your visit. At the cathedral, with its immense nave; along the labyrinthine streets of the call, the old Jewish quarter; at the Romanesque monastery of Sant Pere de Galligants; at the Gothic basilica of Sant Feliu; at the colourful houses and the bridge over the Onyar river; or at the huge city walls. So many years of history and culture are concentrated in the city that it's best savoured at a leisurely pace.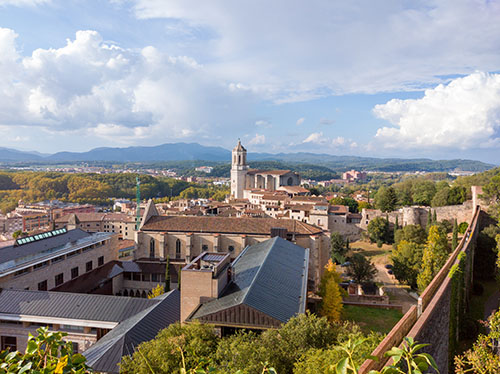 The coastline (Costa Brava) will also take your breath away with the beauty of its superb beaches and heavenly coves nestled among cliffs, not to mention typical Mediterranean towns.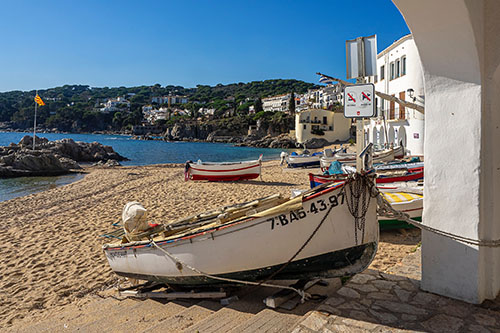 Conference fee on site.
580 € for seniors (480 € early-bird)

350 € for students (280 € early-bird)
Including coffee breaks, lunches, reception and the gala dinner.

Conference fee online.
300 € for seniors (250 € early-bird)

180 € for students (125 € early-bird)
Early bird registration deadline: February 28th, 2023
About CompTest
CompTest is a series of conferences which brings together academics and industrial communities working on modelling and characterization of composite materials and structures. The main topics of CompTest within testing and model identification for structural fibre-reinforced composites:
Model development and validation
Advanced experimental techniques
Simulation of structural composites
This conference series has been inspired by European Conferences on Composite Testing and Standardization (CTS). After the CTS series ended a conference with a similar emphasis on composites testing (CompTest) was organized in Châlons-en-Champagne, France in January 2003, with the scope further expanded to include model identification. The last three CompTest conferences have been held in Leuven (Belgium, 2017), Luleå (Sweden, 2019) and, due to the pandemic situation, in 2021 ONERA organized a full online conference. The 11th International Conference on Composite Testing and Model Identification, CompTest – 2023, will be hosted by the University of Girona on May 31- June 2 in Girona, Spain.